Bach Remedies Level 1 Live-On-Line Course (BACHL1LIVE.1Aug-22)
Learn How to Balance Emotional Stresses Naturally and Safely
Study in your own home with 6 x 2 hour online sessions (using Zoom).
Complete an internationally recognised training, approved by The Bach Centre, UK.
Learn how to understand yourself and your feelings.
On this course you will:
Become familiar with a range of different emotional states - both the "negative" and "positive" aspects
Become familiar with all 38 Bach Flower Remedies
Learn how and when to use the Remedies in daily life, for yourself, family, friends and pets
Gain an insight into the history and philosophy of Dr Edward Bach.
How Well Do You Cope with Stress?
For you it may be feeling fearful, anxious, bitchy, overwhelmed, unwanted thoughts that wont stop! None of these emotions are bad - it's just if you stay in this emotional "state" for too long it is not useful or helpful or good for your health!
Bach Remedies provide guidance and hope!
You will learn a natural system of plant-based healing.
Developed by a medical doctor - Dr Edward Bach.
Used around the world for the whole family.
Help to reduce stress and bring emotional balance.
Training includes Dr Bach's philosophy of self-help and simplicity.
Covering ALL 38 Bach Flower Remedies.
Course Preparation
Prior to the first session of the Live-On-Line Course we will book a one-on-one Zoom session with each student. This will cover using Zoom, and a mini-consultation to select one Bach Remedy for use during one of the course exercises. This personal Bach Remedy will be posted out to each student prior to the course starting.
Studies have shown that shorter class sessions are preferred for online platforms so the course will be divided into 6 sessions of approximately 2 hours each using Zoom.
There will be a set schedule over a two week period of 3 sessions each week.
The sessions will be interactive with plenty of time for student participation.
A Workbook will be provided for students to download prior to the course, for use during the Course.
A textbook covering a full description of each of the 38 Bach Remedies will be posted or downloadable prior to the first session.
What Students Will Need
An internet connection - broadband wired or wireless
PC, mac, ipad, laptop or tablet
Headset or earbuds with microphone (ideal)
Webcam - built-in or USB plug-in
Know how to join a Zoom Meeting - click here for some useful info if you are new to Zoom
Course Outline
Introduction
History
The 7 Groups
38 Remedies
Exercises
Case Studies
Bach Remedies provide a guide to managing our emotions so we can fulfil our potential, helping ourselves and others to better understand what causes stress and how to help balance emotions so life is enjoyed more fully.
Your Tutor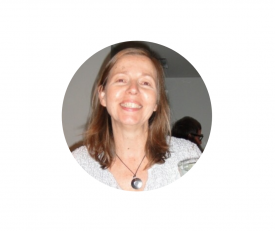 I'm Jane Brenan and I am excited that you are considering doing this Live-On-Line Level 1 Bach Remedies Course. I am a business woman and educator with over 16 years experience teaching Bach Remedies. From being "blown away" in 1999 when I first learned about Bach Remedies at a Level 1 Course, to continuing my training to the advanced Level 2, then the Practitioner Level 3; then to trainer level because I wanted to share with as many people as possible this remarkable, plant-based system of natural remedies; and the language of the emotions which guide us to specific Remedies. I feel blessed to be able to teach all 3 levels of this training.
From a background in the "corporate" world of finance and systems, my partner Richard Rust and I, set up our School in 1995 and my life changed direction to health and healing and running our businesses. My training has continued over the years to include:
Bach Foundation Registered Practitioner + Trainer

NLP Certified Master Practitioner

Transforming Communication Instructor

Touch for Health Kinesiology Proficiency

Kinergetics

Tai Chi Chi Kung

Bowen Technique

Ortho-Bionomy®

Further Study
Most people learning about Bach Flower Remedies want to use the remedies to help themselves and their friends and family; others will use it as an entry route to an advanced course (level 2) & eventually to practitioner training (level 3). The advanced level and practitioner level are both taught in-class in Wellington.
Your Investment Includes
1 text book (sent to you - email or post)
1 Remedy mix, posted for NZ students, or student to obtain own (if in Australia)
One Zoom session with the Trainer prior to the course
Bach Level 1 Workbook (downloaded in pdf format)
6 x Zoom Live-On-Line sessions
Certificate on Completion (on full attendance).
Note: Early registrations are essential to allow sufficient time for the brief pre-course on-line consult, and time for other items to be sent/emailed to you.
Eligibility: All welcome, highly recommended for all Health Practitioners.
Module ID:
BACHL1LIVE.1Aug-22
Course:
Bach Remedies
Course Dates

Start Date: 2022-08-02

End Date: 2022-08-11

6pm - 8pm (NZ time)

Aug 2, 3 & 4 Tue, Wed & Thu

Aug 9, 10 & 11 Tue, Wed & Thu

Hours

In Hours: 0

Out Hours: 12

Total Hours: 12

Investment

Normal Price: $295

Early Bird Price: $270

Early Bird Price Closing Date: 2022-07-22

Numbers

Minimum Students: 4

Maximum Students: 16
---
This module is taught as part of the Bach Remedies .