Students train at The Wellington School of Massage Therapy because we deliver a range of quality courses with exceptional tutors. Check out the full range by clicking on the Courses tab.
Your journey with The Wellington School of Massage Therapy may be in Massage, working towards a higher qualification such as the Diploma in Therapeutic Massage; or you have already started on your training journey and want to add in some Ortho-Bionomy training; perhaps the intrigue of manual muscle testing gets you really excited and you want to study some Kinesiology - Touch for Health and/or Kinergetics are both available. The options are endless.
Do you want to have better communications with those you care about? Join us on the 4 day Transforming Communications Course to learn how to communicate more congruently. Sometimes we get so busy balancing everything we need to do we forget to have fun and connect with people. Held over 2 w'ends 30 Apr/1 May then 7/8 May. Course details here.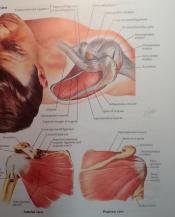 Learning the muscles and bony landmarks are key learning outcomes in massage and many other health modalities. This Applied Musculo-Skelatal Anatomy Course (course code AMSA-16) provides this and more. We have delayed the start of this Course - if you are wanting to join this training let us know asap.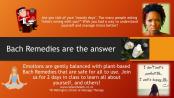 Bach Remedies teach us how we deal with stress and give us natural Remedies to bring balance to our crazy lives. Applicable to every living thing and essential in all families, workplaces, countries. Join us for 2 days of the Level 1 training which covers all 38 Bach Remedies on 12 + 13 May (Thu/Fri). 
Touch for Health 3 - the Kinesiology journey continues with this level 3 course on May 14 + 15. The highlight will be Reactive Muscles. Remember to check out repeat student offers for this course. TFH 4 dates are July 23 + 24.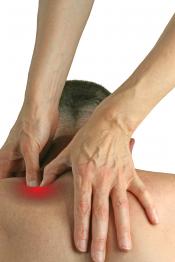 The 2 day Trigger Point Release Course with guest tutor Leon Botello is a full-on exploration of the entire body using compressions and ice-and-stretch to facilitate a positive change.  Pre-requisites apply for this training being held on 19 + 20 May.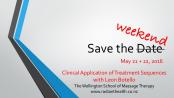 Clinical Application of Treatment Sequences for postgraduate students with renowned guest tutor Leon Botello. May 21 + 22.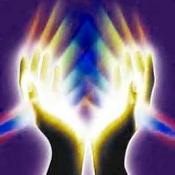 Kinergetics Units 1 + 2
4 days of structured energy work developed by Philip Rafferty, a Touch for Health Kinesiology icon in Australia and a Reiki Master. Kinergetics uses powerful healing frequencies to create deep physiological balance and healing. Check out the course details here and join us for 4 days that will change your life. Dates 26 - 29 May.
The Practise of Treatment Massage - the next step for students after completing the Certificate in Therapeutic Massage Course. The AMSA Course must be completed alongside this course. Just one intake each year. You will transform how you work with your clients. 10 - 12 June for Clinical Assessment Skills (can do just this 1st w'end to learn clinical assessment skills), then one Sat each month.  
Ortho-Bionomy Fundamentals/Phase Four - next intake June 18 + 19. Take the weekend to learn this gentle, non- invasive form of body therapy. Details here.  The Ortho-Bionomy courses held at the WSMT form part of an internationally recognised Ortho-Bionomy training.  Join Richard Rust on this fascinating journey which covers the entire body!  Click here for course details for our last Fundamentals/Phase Four Ortho-Bionomy Course for 2016.
Arthur Lincoln Pauls, the developer of Ortho-Bionomy, chose the sand dollar as the symbol or Ortho-Bionomy.
 Richard P. Rust
In these challenging economic times, ensure your Number 1 asset - your Health and Energy - are taken care of!  Richard brings a host of Treatment tools to the table to help you resolve any acute and chronic pain issues you may be experiencing. Refer below for some examples:
- Chronic Neck weakness/tension
- Migraines/Headaches
- Thorax and Rib pain/restriction
- Breathing Issues
- Lower Back, Hip, and Pelvic issues (including Sciatic)
- Knee, Ankle & Foot problems (e.g. collapsed aches; unstable ankles; plantar fasciatis)
- Chronic Fatigue/Fibromyalgia
- Candida (Thrush) issues
Even if life just seems a bit tough - hard to get out of bed; no get up and go; feeling tired; easily bloated with food - Richard can help you back to Radiant Health!  Richard really listens to your concerns, and helps to clarify your needs and outcomes regarding Health & Energy and just feeling better!

Richard is Co-Director of The Wellington School of Massage Therapy and The Radiant Health Centre - where he sees clients Monday - Friday. 
As always we welcome your questions - email or phone or call in to the office to see us.